The slim Hellvape EIR Pod Kit in the trendy stick design impresses at first glance with its high-quality surface finish and the razor-sharp LED display, which clearly shows the most important parameters when vaping. With its compact format of only 106.5 x 24.5 x 14.3 mm and a weight of only 40 grams, the Hellvape EIR Pod Kit fits comfortably in any trouser pocket. It also comes with a handy lanyard so you can wear it around your neck.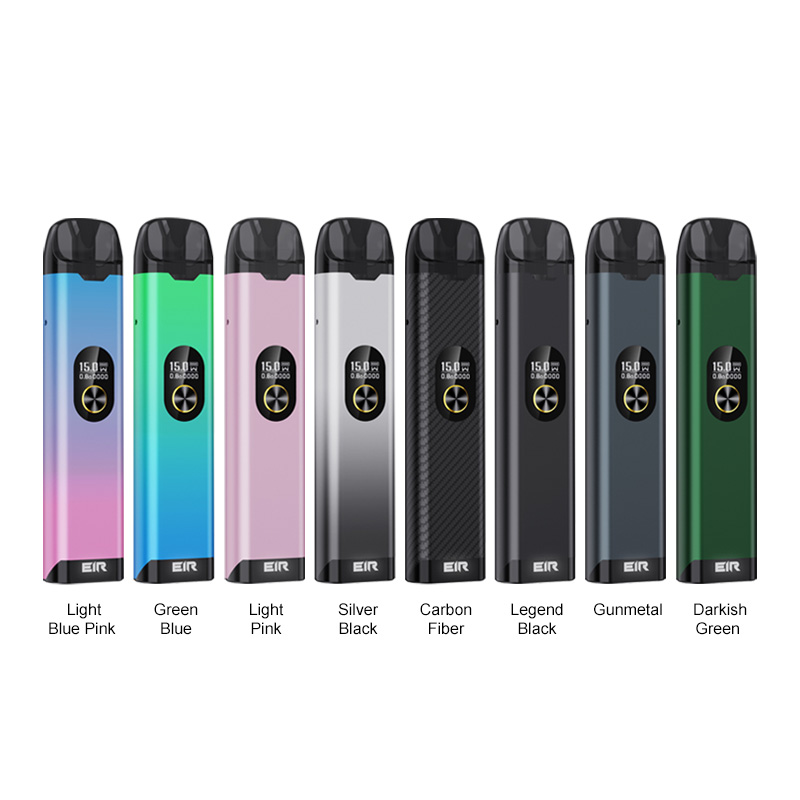 Despite its handy dimensions, the Hellvape EIR Pod Kit price is equipped with a powerful 800 mAh battery and can elicit a variable output power between 5 and 18 watts. With this kit, either the fire button or the popular automatic pull mechanism is used to fire. The battery can be recharged in under 45 minutes via the integrated USB-C connection. The Hellvape EIR Pod Kit has all known safety circuits and thus ensures a safe vaping experience.
The EIR Pods can hold up to 2.5 ml of liquid via their side-fill system. A tight silicone seal ensures that no liquid drips out and the pod stays closed tightly. A special highlight of the Hellvape EIR Pod Kit is the easy change between the MTL and RDL airflow: The pod is simply rotated by 180° and the dual airflow of the kit is adjusted accordingly. The coils from the P3 series are installed in the EIR Pods.
Here you can choose between a 0.8 ohm and a 1.2 ohm coil, which can be changed in no time at all using the simple push-and-pull method. Despite its practical size, the Hellvape EIR Pod Kit offers a large number of setting and customization options.
You may also like: