Introducing an exceptional vaping experience that combines delightful flavors with a carefully crafted blend of cannabinoids, the Torch Burn Out Blend Black Series Disposable Vape is the epitome of complexity and convenience. This compact and portable vape is not only pre-charged but also pre-filled with Torch's renowned Burn Out Blend, ensuring you're ready to enjoy your vaping journey right out of the box.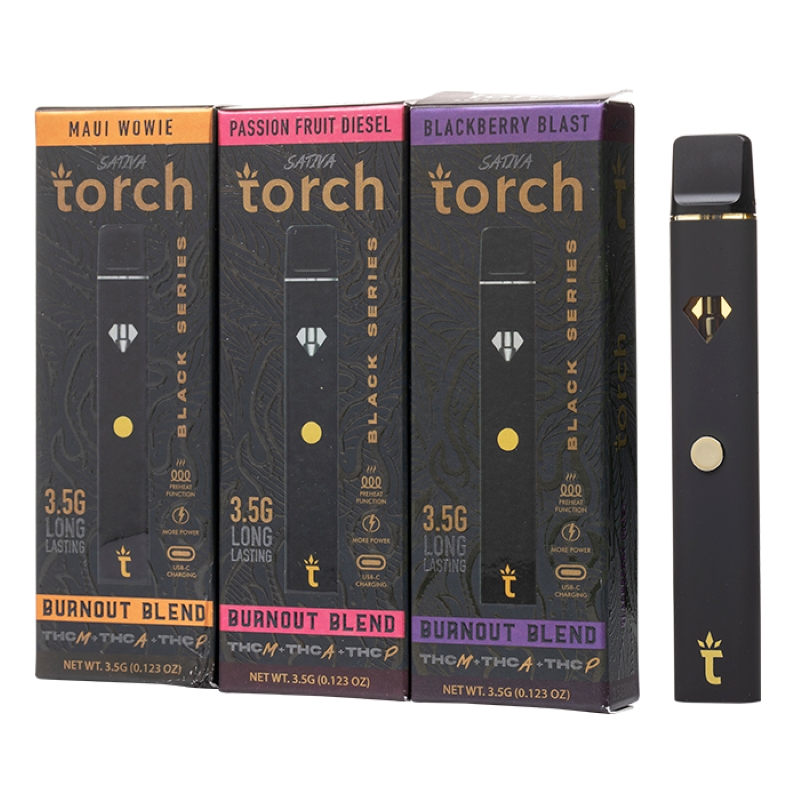 So, what exactly are Torch Burn Out Blend Black Series Disposables? These disposable vapes are essentially an evolution of the original Burn Out Blend Disposable by Torch, with a sleek twist. The Black Series boasts elegant black-colored devices and an expanded range of strain options, catering to a broader spectrum of preferences. Here's a closer look at what sets them apart.
Integrated Rechargeable Battery: The Torch Burn Out Blend Black Series Disposable Vape features an integrated rechargeable battery, a feature that ensures you can relish your vaping experience for an extended period. When it's time for a recharge, simply utilize the convenient Type-C charging port.
Pre-heat Button for Consistency: To provide vapers with a consistent and enjoyable experience, this device is equipped with a pre-heat button. This feature guarantees that every puff is as satisfying as the last, allowing you to immerse yourself in the rich flavors and effects.
A Fusion of Cannabinoids and Terpenes: Nestled within the device is a meticulously blended 3.5-gram combination of cannabinoids, including THC-M, THC-A, and THC-P, along with strain-specific terpenes. This composition ensures a multi-faceted experience, combining the potential for euphoric effects with a palette of captivating flavors.
If you're seeking a potent, intricate blend that keeps you on cloud nine and tantalizes your taste buds, the Torch BurnOut Blend Black Series Disposable Vape is unequivocally the choice for you. It's an indulgent vaping experience that guarantees euphoric effects you'll find irresistible, ensuring you never want to part with it.