In the world of disposable vapes, the Yovo JB8000 Smart Disposable has emerged as a game-changer, offering an unparalleled vaping experience. With its cutting-edge features and impressive design, the JB8000 Smart Disposable stands out as a top-tier choice for vaping enthusiasts. In this review, we will delve into the key features of this remarkable device and compare it to the renowned Lost Mary MO5000.
What is the JB8000 Smart Disposable?
The JB8000 Smart boasts a 12ml pre-filled vape juice capacity, ensuring long-lasting enjoyment without the hassle of constant refills. Equipped with a rechargeable 650mAh internal battery and a Type-C cable for fast charging, this device offers convenience and efficiency. Additionally, the TRX Tech 0.8Ω Sub-Ohm Mesh Coil guarantees intense flavor delivery, satisfying even the most discerning vapers.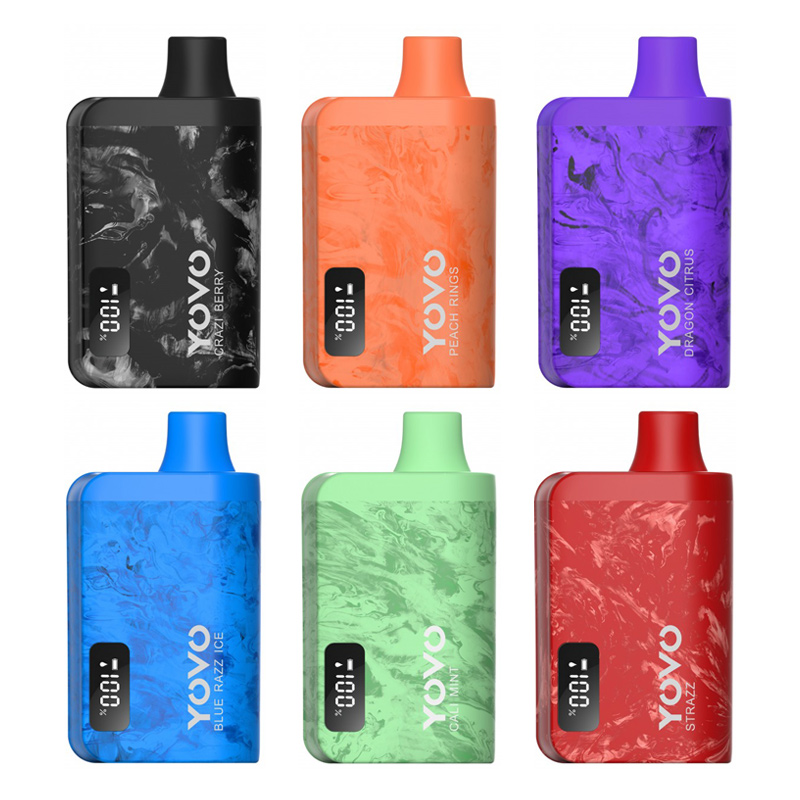 Impressive Longevity
With approximately 8000 puffs, the JB8000 Smart Disposable offers an extended vaping experience, surpassing many other disposable vapes on the market. This extended lifespan ensures that users can enjoy their favorite flavors for an extended period, making it an ideal choice for those seeking value for money.
With User-Friendly Indicator Screen
The JB8000 Smart Disposable features draw-activated functionality, eliminating the need for buttons and providing a seamless and intuitive vaping experience. Moreover, the device's air flow is adjustable, allowing users to personalize their vaping experience according to their preferences. The battery and e-liquid indicator screen offers real-time information, keeping users informed about the device's battery life and e-liquid levels.
What is the manufacturing process?
The JB8000 Smart Disposable exudes elegance with its high-class resin-like surface, adding a touch of sophistication to the vaping experience. Its sleek and compact design ensures portability and ease of use, making it perfect for on-the-go vaping.
Comparison with Lost Mary MO5000
When comparing the JB8000 Smart disposable vapes online with the Lost Mary MO5000, one cannot help but notice the striking similarity in their layered prints. The intricate patterns on both devices showcase exceptional attention to detail, giving users a visually appealing experience. However, the JB8000 Smart Disposable outshines the MO5000 with its superior performance and longevity, providing users with an unmatched vaping experience.
In conclusion, the JB8000 Smart vape with cotton candy flavor is a vaping device that ticks all the boxes for performance, longevity, user-friendly features, and exquisite design. With its impressive 8000 puffs, rechargeable battery, and adjustable air flow, it sets a new standard in the world of disposable vapes. As a vaping enthusiast, the JB8000 Smart Disposable is a must-try, offering an unparalleled and satisfying vaping experience that will leave users craving for more.
Recommended Products:
elf bar te 6000 flavors
lost mary cotten candy
Read More Related Articles: How much do disposables cost