Today, we're diving into the exciting world of vaping with a review of the Lost Mary OS5000 Frozen Edition. Lost Mary, a brand synonymous with excellence in the vaping industry, continues to impress with their latest creation.
Let's start by exploring the exquisite flavors offered by this Frozen Edition. The Banana Duo Ice flavor takes center stage, blending the smoothness of banana with a refreshing icy twist. It's a flavor combination that will leave you craving for more.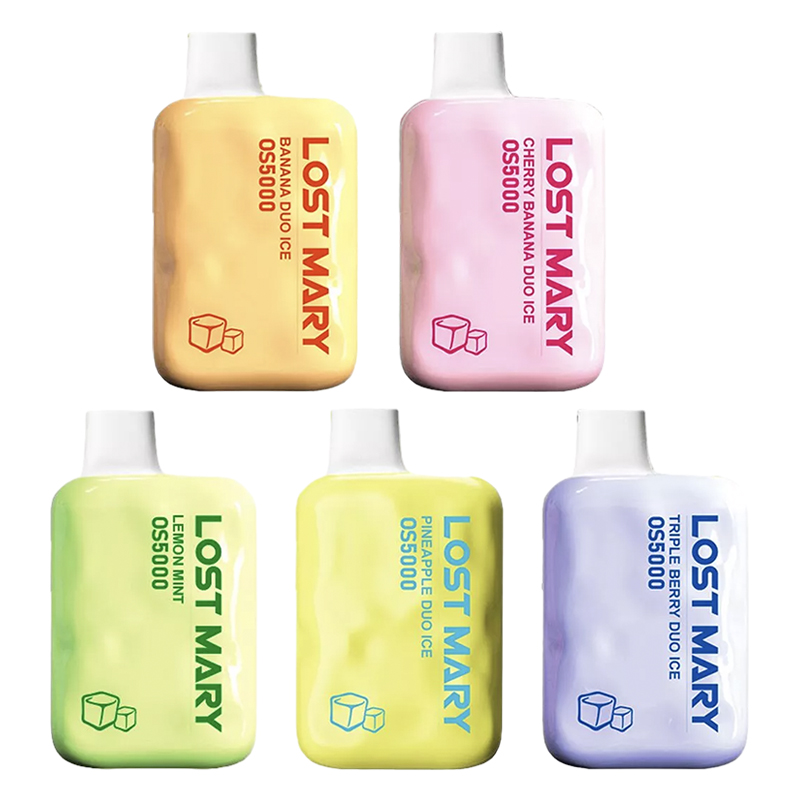 For those looking to embark on a unique taste adventure, the Cherre Banana Duo Ice is a must-try. This tantalizing blend of cherry and banana, enhanced by a cool menthol breeze, creates a harmonious symphony of flavors that dance on your palate.
If you prefer a zesty twist, the Lemon Mint flavor is sure to captivate your senses. The tangy notes of lemon perfectly complement the refreshing essence of mint, resulting in a rejuvenating vaping experience.
For a tropical escape, the Pineapple Duo Ice flavor delivers an explosion of tropical goodness. Juicy pineapple flavors intertwine with a cool icy finish, transporting you to a sun-soaked paradise with every puff.
Last but not least, the Triple Berry Duo Ice showcases a delightful medley of three luscious berries, harmonized by a hint of menthol. It's a fruity fusion that will have your taste buds singing in delight.
Now, let's address the burning question of where to find the best disposables in 2023. Look no further than the Lost Mary OS5000 Frozen Edition. With its exceptional flavors and high-quality performance, it stands as a prime example of excellence in disposable vapes.
When it comes to purchasing cheap vapes, several options are available. From reputable online retailers to local vape shops, there are ample opportunities to find affordable vaping devices. Conduct thorough research, compare prices, and read customer reviews to make an informed decision that suits your budget and preferences.
Features
• Size: 48x26x82mm
• 5000 Puffs
• 5%(50mg) Nicotine
• 13ml Vape Juice Capacity
• Rechargeable 650mAh integrated Battery
• Mesh Coil
• Draw-activated
In conclusion, the Lost Mary OS5000 Frozen Edition is a testament to the brand's commitment to innovation and flavor mastery. With its tantalizing range of flavors and reputation as one of the best disposables in 2023, this device is a must-have for any vape enthusiast. So, indulge in the frozen goodness and elevate your vaping experience to new heights. Happy vaping!
Recommended Products:
blue razz ice lost mary os5000
zero nicotine elf bar
Read More Related Articles: https://giantvape.id/wujudkan-impian-anda-lost-mary-os5000-frozen-edition-disposable/