The IJOY Woofr 15000, an innovative vaping device powered by iJoy, represents a remarkable fusion of convenience and cutting-edge technology in the vaping realm. This pre-filled, rechargeable, and disposable device is specifically crafted to meet the demands of contemporary vapers, boasting an impressive 15000 puffs – a testament to its longevity and dependability.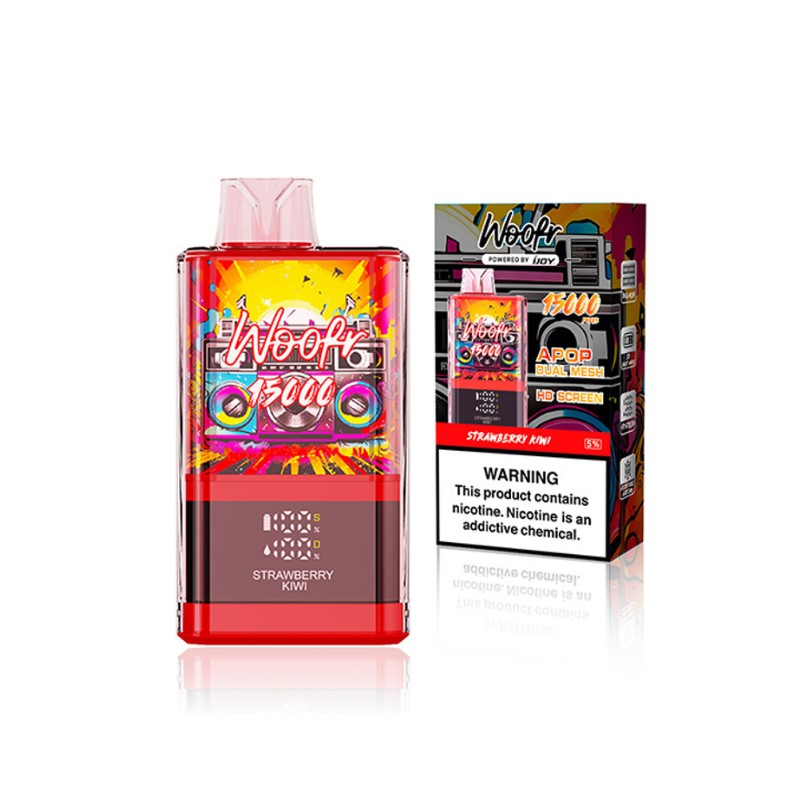 Central to the Woofr 15000's design is a robust 650mAh built-in battery, intricately engineered to provide users with an enduring vaping experience without the need for frequent recharging. The device's substantial battery life is complemented by the modern convenience of a Type-C charging port.
A standout feature of the Woofr 15000 vape is its generous 20-ML e-liquid capacity, enabling vapers to indulge in their favorite flavors for extended periods, minimizing the hassle of constant refills. The device utilizes a 5% nicotine salt concentration, catering to those who seek a stronger nicotine hit with each puff – striking a harmonious balance between satisfying cravings and delivering a smooth, enjoyable vaping experience.
Beyond capacity and power, the Woofr 15000 by IJOY excels in delivering an unparalleled vaping experience through its APOP dual mesh coil system. This advanced coil system is designed to elevate flavor and vapor production, ensuring each puff is rich, satisfying, and consistent.
Innovation in the IJOY Woofr 15K is further demonstrated by the inclusion of the SD Boost Mode, a game-changing feature that enhances the device's performance for a more intense flavor and vapor experience. Ideal for vapers who crave a robust experience or enjoy experimenting with different vaping styles.
The device not only excels in performance but also keeps users informed through its HD screen, a unique feature that displays critical information such as battery life and e-liquid level. This allows users to easily monitor their device's status and plan their vaping sessions accordingly.
Customization is key with the Woofr 15000 disposable vape, featuring an adjustable airflow system that empowers users to tailor their vaping experience to their preferences – whether they prefer a tighter draw or a more open, airy inhale. This adds a layer of personalization, enhancing the overall user experience.
The Woofr 15000 offers a wide array of 15 tantalizing flavors, each meticulously crafted to suit diverse taste preferences. From the refreshing Apple Gummies to the exotic Cocomango Berry and the classic Cool Mint, there's a flavor for every palate. Other options include Blue Razz, Watermelon Bubble Gum, and the sophisticated Strawberry Kiwi, among others. Each flavor is designed to deliver a unique and enjoyable vaping experience, making the Woofr 15000 a versatile choice for a broad range of users on the smok black friday sale.