In the ever-evolving world of vaping, the Aspire Gotek Pro Pod System Kit 1500mAh has made a significant mark for its exquisite craftsmanship, innovative design, and exceptional performance. A coveted choice among vaping enthusiasts, this remarkable device is a testament to Aspire's commitment to pushing the boundaries of vaping technology.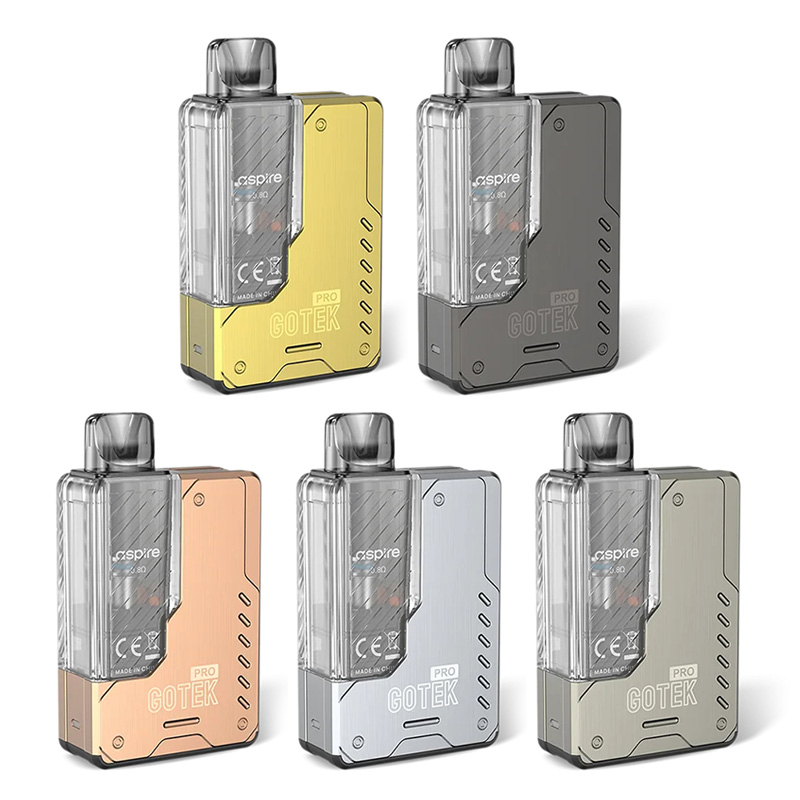 Crafted for Excellence: Compact Body, Lasting Power
The Aspire Gotek Pro Pod System Kit introduces a compact and lightweight body, perfectly balanced with a robust 1500mAh battery. This dynamic duo ensures that you can embark on longer vaping sessions without compromise. Aspire's dedication to delivering enduring power within an ergonomic design is what sets the Gotek Pro apart from the rest.
Airflow Customization: Tailored to Perfection
For vapers who relish personalized experiences, the Gotek Pro embraces a bottom airflow system that allows you to finely tune your vaping encounter. This level of precision in airflow customization empowers you to tailor each puff to your unique preferences. Whether you prefer a restricted draw or an airy cloud production, the Gotek Pro has you covered.
Versatile Pod Options: Flexibility at Your Fingertips
The Aspire Gotek Pro Pod System Kit offers not one, but two pod options that cater to different vaping styles. The refillable 4.5ml Gotek pod is perfect for those who value cost-effectiveness and enjoy the freedom of customizing their e-liquid choices. On the other hand, the prefilled 5.0ml Gotek pod indulges your taste buds with an array of flavor options, allowing you to explore a diverse range of vaping experiences.
Elegance Meets Functionality: Dimensions and Features
Designed to seamlessly integrate into your vaping lifestyle, the Gotek Pro boasts dimensions of 46*20.6*81 mm, striking the perfect balance between portability and functionality. Its pod capacity of 4.5ml (or 2.0ml for TPD regions) is accompanied by an easy side-fill mechanism, making refills a hassle-free process. The inclusion of a non-replaceable 0.8Ω meshed coil (operating at 13-16W) ensures consistent and satisfying performance with every draw.
Empowering Battery Performance: A 1500mAh Marvel
At the heart of the Gotek Pro lies a built-in 1500mAh battery that guarantees prolonged vaping enjoyment. Activated through an intuitive auto-draw mechanism, this pod system kit delivers a constant 3.4V output, ensuring a reliable and steady vaping experience throughout your usage.
Swift Charging and Optimal Convenience: Type-C Charging
When it comes to recharging your Gotek Pro, Aspire has taken convenience to the next level with Type-C charging. Offering a maximum charge current of 1A, this technology ensures that you can get back to your vaping journey swiftly, without unnecessary delays.
In conclusion, the Aspire Gotek Pro Pod System Kit 1500mAh encapsulates the pinnacle of vaping innovation. From its masterfully crafted design to its customizable airflow, versatile pod options, and enduring battery performance, this kit embodies Aspire's commitment to delivering excellence to vapers worldwide. Elevate your vaping journey and experience the future of vaping technology with the Aspire Gotek Pro Pod System Kit.