If you're on the hunt for a disposable vape that's as powerful as it is convenient, look no further than the Modus HXC Knockout Disposable 2G. This cutting-edge device is a game-changer, boasting a host of features that set it apart in the world of disposables.
One of the standout features of the Modus HXC Knockout is its substantial 2G (2000mg) capacity. This ensures a lasting and robust vaping experience, making it an ideal choice for those who demand more from their disposables.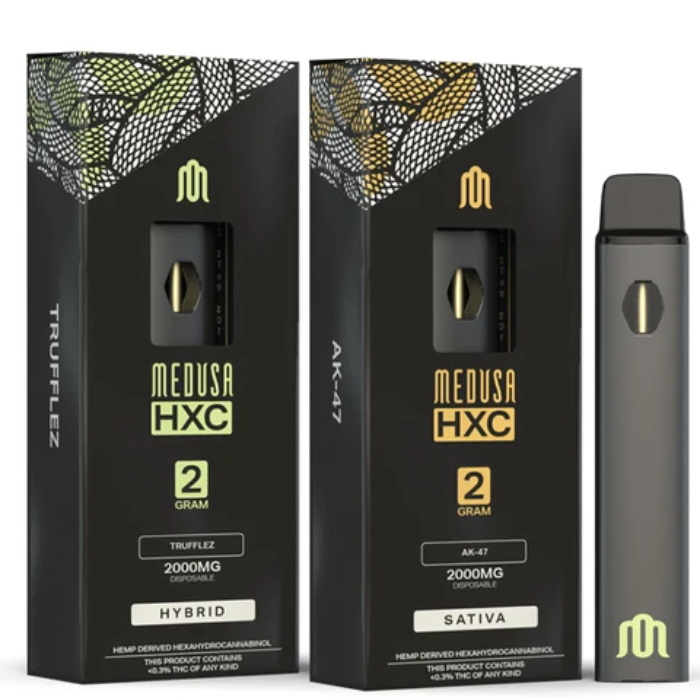 Modus doesn't hold back when it comes to cannabinoids. The HXC Knockout features a potent blend of HXC, HXC-O, and HXC-P, creating a symphony of effects that cater to a diverse range of preferences.
Crafted for connoisseurs, the Modus HXC Knockout combines live resin, distillate, and terpenes. This intricate blend ensures a rich and flavorful vaping experience with every draw, making it a true standout in the disposable vape market.
Equipped with a ceramic coil heating element, the Modus HXC Knockout delivers a smooth and consistent vapor production. Say goodbye to harsh hits, as this device is designed for an enjoyable and satisfying experience.
No buttons, no hassle. The Modus HXC Knockout is draw-activated, making it incredibly user-friendly. Simply inhale, and the device comes to life, providing a seamless and hassle-free vaping experience.
Keep track of your battery life with the LED battery indicator light. This smart feature ensures you're always in the know, so you never run out of power unexpectedly.
Built to withstand the rigors of daily use, the chassis of the Modus HXC Knockout is constructed from high-quality polycarbonate. This ensures durability without compromising on sleek design and portability.
For peace of mind, Modus goes the extra mile with comprehensive third-party lab testing. This disposable is < 0.3% Delta-9 THC, free from fillers, and crafted to meet the highest standards of quality and safety.
Keeping your Modus HXC Knockout ready for action is easy with the Type-C charging port. Fast and efficient, this feature ensures you spend more time vaping and less time waiting.
In conclusion, the Modus HXC Knockout Disposable 2G is a powerhouse in the world of disposables, offering a potent blend of cannabinoids, premium concentrates, and user-friendly features. Elevate your vaping experience with Modus – where power meets convenience in every puff.