Voopoo has released the Drag H40 Pod Mod Kit. This is an ergonomic leather pod-mod with a 40-watt functional board, a 1500 mAh battery and a universal cartridge for various replaceable evaporators or a serviceable base.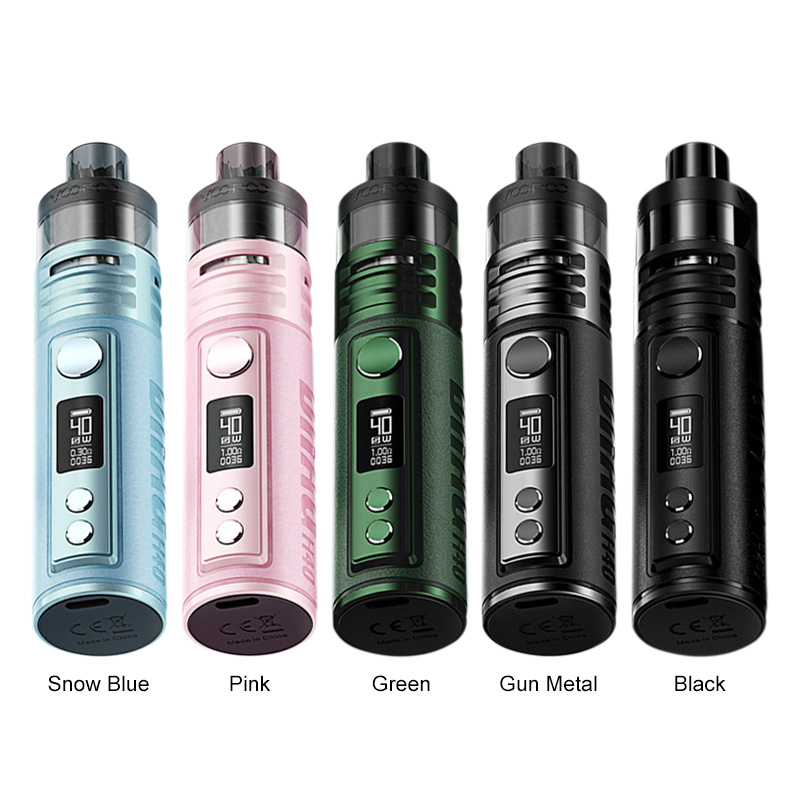 The new voopoo device received a compact cylindrical body wrapped in embossed eco-leather. A generous palette of colors included eight options. Two rows of air sampling holes were cut out from above. The removable polymer cartridge was fixed with a magnetic connector.
The facade was equipped with a control panel assembled from a round activation button, a display and a pair of small adjustment keys. Attached to the bottom of the charging port.
Behind the leather walls is a variable board that supports power in the range from 5 to 40 watts, as well as Smart and RBA modes for working with a serviced base. The power source is a built-in battery with a capacity of 1500 mAh. Charging is done via USB Type-C.
The cartridge is equipped with two evaporators from the PnP coils series with mesh winding at 0.45 and 0.3 Ohm. In addition, the device supports ten more types of replaceable evaporators and a serviceable base for one coil.
Airflow can be implemented in both free and tight styles by rotating the tank relative to the mod. The volume of the tank will be 5 or 2 ml, depending on the version. The filling hole is hidden on the side wall, under a sealed plug.
Recommended Products:
honeyroot extrax hhc
vaporesso eco nano
Read More Related Articles: https://ecigreviews.fr/revetement-en-cuir-exquis-a-360-kit-voopoo-drag-h40/