In the realm of vaping technology, innovation continues to shape the landscape, offering enthusiasts novel experiences with each advancement. One such pinnacle of ingenuity is the ElfWorld Reload 6000 pod-replaceable disposable box vape device.
Designed to redefine convenience, flavor, and sustainability, this exceptional vaping solution introduces an array of features that cater to both beginners and seasoned vapers alike. In this exploration, we delve into the remarkable attributes that set the Elf World Reload 6000 apart, ushering in a new era of vaping satisfaction.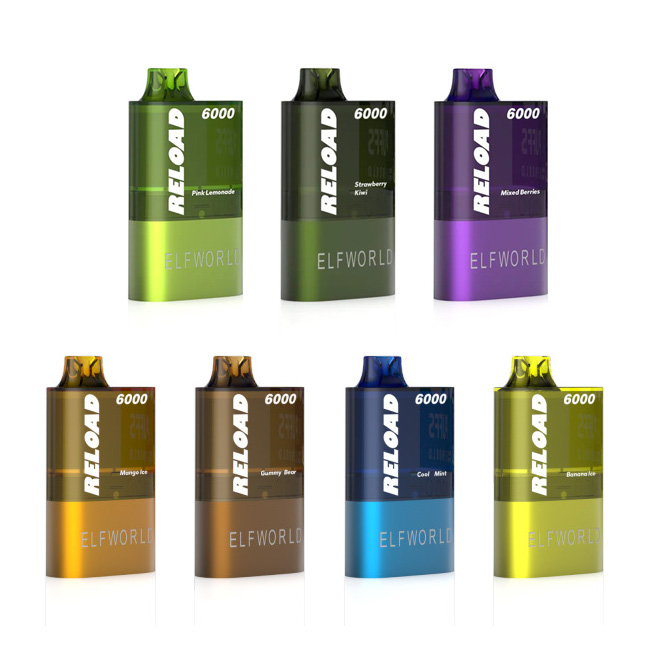 Innovative Features for Unmatched Pleasure
The Reload 6000 by ElfWorld stands as a testament to thoughtful engineering, boasting an impressive 12ml eJuice capacity that guarantees an extended and uninterrupted vaping experience. With the capacity to deliver an astonishing 6000 puffs, this vaping device is optimized to accompany you throughout your day, ensuring you're never without your preferred flavors.
At the heart of this remarkable device lies a mesh coil system, meticulously designed to extract rich and nuanced flavors from your chosen eJuices. This infusion of flavor transforms each puff into a sensory delight, enveloping your taste buds in a symphony of taste that is unparalleled.
Empowering Your Vaping Journey
The Elf World Reload 6000 Vape takes pride in its built-in 650mAh battery, fortified with the convenience of a Type-C fast charging port. This amalgamation of power and rapid charging means that downtime is minimized, allowing you to enjoy your favorite blends without protracted pauses.
Personalization is a cornerstone of the Elf World Reload 6000 experience, as it offers an array of nicotine strength options, including 0%, 2%, 3%, and 5%. Whether you're on a journey towards nicotine independence or have a specific preference, this device caters to your needs.
Sustainability in Design
An outstanding facet that distinguishes the Elf World Reload 6000 from conventional disposable devices is its dedication to environmental preservation. The pod-replaceable design not only eliminates the need for frequent device replacements but also significantly reduces the environmental footprint associated with single-use vapes. By opting for this eco-friendly alternative, you not only save costs in the long run but also contribute to a greener tomorrow.
Flavorful Adventure Awaits
With the Elf World Reload 6000, the world of flavors is at your fingertips. This vaping masterpiece offers an impressive selection of 10 distinct flavor options, each meticulously crafted to cater to a variety of palates. From the refreshing zest of Lush Ice to the tropical allure of Mango Ice, and the tantalizing sweetness of Blue Razz Ice, there's an option for every mood and moment.
Conclusion
In the evolving universe of vaping technology, the Reload 6000 shines as a beacon of innovation, convenience, and flavor. With its remarkable features, commitment to sustainability, and a spectrum of delightful flavors, it stands as an embodiment of the ultimate vaping experience. Elevate your journey in the world of vaping with the Elf World Reload 6000 – where every puff is a testament to meticulous craftsmanship and unparalleled pleasure.
You may also like: pyne pod 8500