In this article, we'll be covering the Coolfire Z80 Kit by Innokin. If you are looking for a durable and professional device for MTL or RDL vaping, this is definitely a good choice. Let's dive in.
Innokin Coolfire Z80 Kit consists of the Coolfire Z80 Mod and the Zenith 2 Tank. Let's start with the mod. As you can see, its styling is very "Coolfire"-like and has lovely smooth curves with leather or suede textured grip areas. Surrounding the grip areas is the main zinc alloy frame which is either GunMetal, Dark Grey, or Silver. The mod requires a single 18650 battery for power and has a variable wattage output of 6-80W. Charging-wise, you get a USB Type-C port that can charge at up to a 1.7A charge rate. Besides the VW mode, you also get the F0 Fourth Generation Technology mode which allows you to change the frequency of the alternating current going to the coil to suit your preference. Also, you get the coil refresh mode which when you have taken a vape will send 40% of the power to the coil for a split second when you release the fire button to prime the coil ready for your next vape. A color TFT screen is provided but the size is not specified.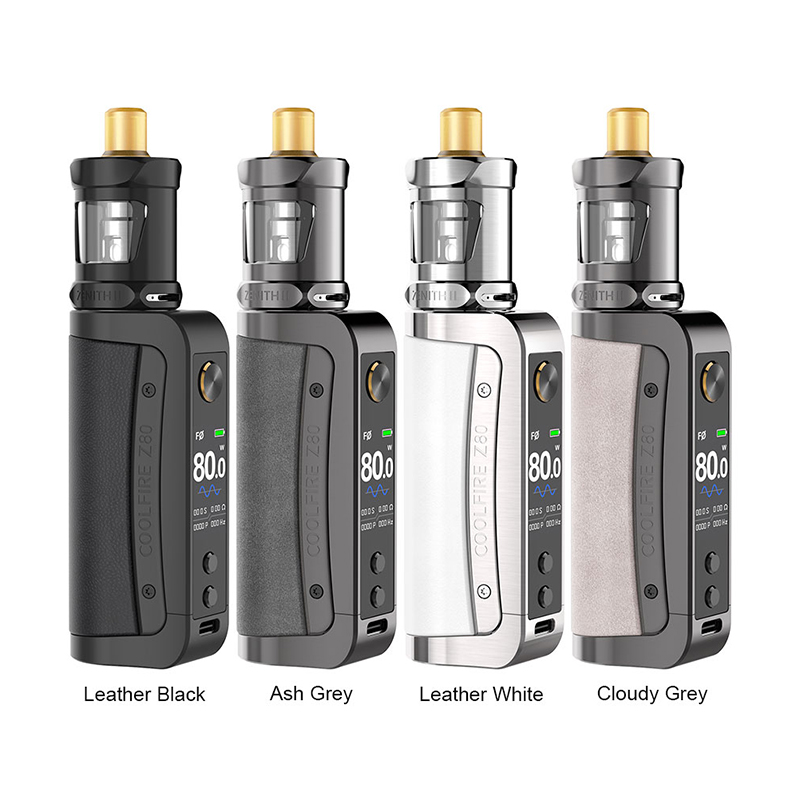 As for the Zenith 2 Tank, the e-juice capacity is 5.5ml, featuring a twist top fill system. A wide and clear viewing port allows you to accurately gauge how much juice you have left and when you need to top up. Innokin has also adjusted the design of the tank so that it now fits any 510 drip tip. The tank is pre-installed with a yellow 510 MTL drip tip, and a black RDL drip tip is included in the package for replacement. The tank adopts a single-slotted multiple holes airflow system, allowing the vaper to chose exactly how much windage they want flowing into their lungs to deliver tasty, satisfying vapor. The Zenith 2 Tank can deliver stealthy clouds of vapor by utilizing either of the two coil options included (Z 0.8ohm MTL Coil & Z 0.3ohm RDL Coil). Compatible with the entire Innokin Z Coils, this tank is suited to vapers of all skill levels. Fast coil replacement through an easy and clean coil replacement system.
You may also like:
voopoo musket kit price
drop solo v1.5 rda review