If you're an avid vaper looking for convenience and long-lasting satisfaction, look no further than LUCKEE's latest innovation – the Vape Daniel Bottle Shape 8k Puffs 20ML 8,000 disposable vape. Designed with modern vapers in mind, this cutting-edge product promises an exceptional vaping experience with its remarkable features and an array of delightful flavors.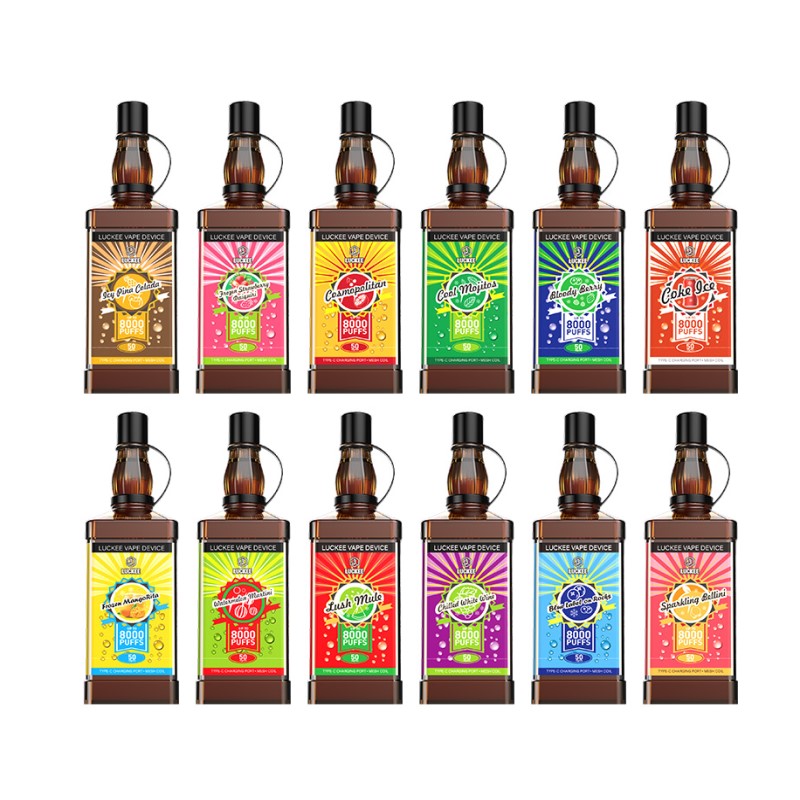 Long-lasting Puffs for Endless Enjoyment
Gone are the days of constant recharging and maintenance. LUCKEE Vape Daniel's disposable vape boasts an impressive puff count of up to 8000 puffs, making it the perfect companion for those who want to indulge in uninterrupted vaping pleasure. Whether you're at home, on the go, or simply relaxing with friends, this disposable vape guarantees that you won't run out of puffs anytime soon.
A Flavorful Adventure
To cater to a diverse range of vapers, LUCKEE has crafted the Vape Daniel disposable vape in two enticing flavors: clear and tobacco. The clear option caters to those who prefer a flavorless experience, allowing them to enjoy the pure essence of vaping. On the other hand, the tobacco flavor provides a classic and traditional taste, ideal for those seeking a familiar and nostalgic vaping sensation.
But the flavor options don't stop there! The Vape Daniel disposable vape offers an impressive selection of flavor profiles, each uniquely crafted to excite your taste buds. From the refreshing Chilled White Wine and Cool Mojitos to the tangy Cola Ice and Blue Label On Rocks, there's a flavor for every palate. If you're into fruity blends, options like Bloody Berry, Icy Pina Colada, Frozen Mangorita, and Frozen Strawberry Daiquiri await you. For the sophisticated vapers, the Lush Mule, Sparkling Bellini, and Watermelon Martini flavors offer a touch of elegance.
Customized to Your Preferences
In addition to the delightful flavors, each variant of the Vape Daniel disposable vape comes with its own distinct features, battery capacity, and nicotine content. LUCKEE understands that vapers have unique preferences, and this range of options allows you to find the perfect fit for your vaping needs.
Sleek Design and Enhanced Vaping Experience
The Vape Daniel's disposable is not only a powerhouse of flavor and puffs but also an eye-catching accessory. With its sleek and modern design, it complements your style while delivering an outstanding vaping experience. For those seeking an even smoother draw, some models of this disposable vape are equipped with advanced mesh coils, ensuring a velvety cloud production with each puff.
Conclusion
In conclusion, LUCKEE has raised the bar in the world of disposable vapes with the remarkable Vape Daniel Bottle Shape 8k Puffs 20ML 8,000. Say goodbye to frequent recharging and maintenance, as this disposable vape offers an impressive 8000 puffs per charge. With flavors ranging from clear and tobacco to a wide selection of tantalizing blends, vapers are in for an unforgettable journey of taste. Embrace the future of vaping convenience and style with LUCKEE's Vape Daniel vape at vape stores – an innovation that is sure to leave a lasting impression on every vaping enthusiast.