In the realm of vaping innovation, Cali Vape has taken a quantum leap forward with the introduction of its latest masterpiece – the Cali UL8000 Disposable Vape Pen. This cutting-edge creation is set to redefine the vaping experience, offering a remarkable array of features that cater to both beginners and experienced vapers alike. With a colossal puff count, stylish design, and an array of tantalizing flavors, the Cali UL8000 is poised to become the ultimate companion for vaping enthusiasts.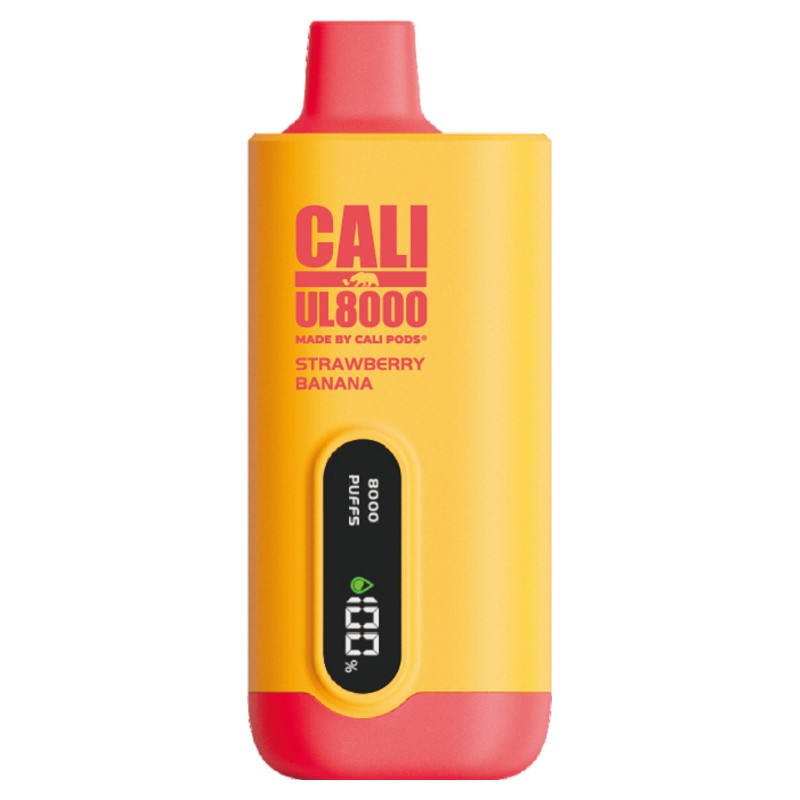 The standout feature of the Cali UL8000 Smart Disposable Vape Pen lies in its jaw-dropping puff count – a staggering 8,000 puffs per device. This feat of engineering propels it to the top spot as the largest Cali vape pen available. Gone are the days of frequent refills and battery anxiety; the Cali UL8000's immense capacity guarantees prolonged vaping enjoyment without compromise.
Designed for both aesthetics and convenience, the Cali UL8000 sports a sleek and slim exterior that fits comfortably in your hand. But it's not just the exterior that exudes elegance – the device is equipped with a silicone mouthpiece that adds a touch of comfort to your vaping sessions.
Adding to its allure, the Cali UL8000 features an intuitive LED display that provides real-time information about both e-liquid and battery levels. Stay in control of your vaping experience with a glance, ensuring that you're always aware of when it's time to recharge or refill.
The heart of the Cali UL8000 beats with technological prowess, housing a formidable 650 mAh battery that ensures extended usage periods. With the convenience of a Type-C USB Cable, recharging becomes a breeze, eliminating the need for multiple batteries or complicated charging processes.
Cali Vape Pods understands that variety is the spice of life, and the Cali UL8000 Smart Disposable Vape Pen delivers on that front as well. Prepare to embark on a flavor journey with an array of options, encompassing both classic favorites and innovative new blends. From the tangy allure of Blue Raspberry Lemonade to the crisp refreshment of Frozen Apple Watermelon, and the timeless appeal of Mighty Mint, there's a flavor to suit every palate.
Diving deeper, the Cali UL8000's inner workings feature a mesh coil, engineered to maximize flavor delivery and vapor production. Complemented by a generous 18ml e-liquid capacity, infused with 5% salt nicotine, this device offers an unparalleled vaping experience that's smooth, satisfying, and utterly immersive.
Conclusion
In the fast-evolving world of vaping, the Cali UL8000 Smart Disposable Vape Pen stands as a testament to innovation and excellence. With its colossal puff count, sleek design, intuitive LED display, and captivating range of flavors, it redefines what a vaping device can offer. Prepare to be captivated by the future of vaping as Cali Vape Pods ushers in a new era with the Cali UL8000.