Step into the future of vaping with the Fat Boy FB10000, a marvel in disposable vape technology that redefines the boundaries of satisfaction and convenience. This powerhouse of a device packs a punch with its cutting-edge features, ensuring an unparalleled vaping experience. Let's explore the unique attributes that make the Fat Boy FB10000 a standout in the world of disposable vapes.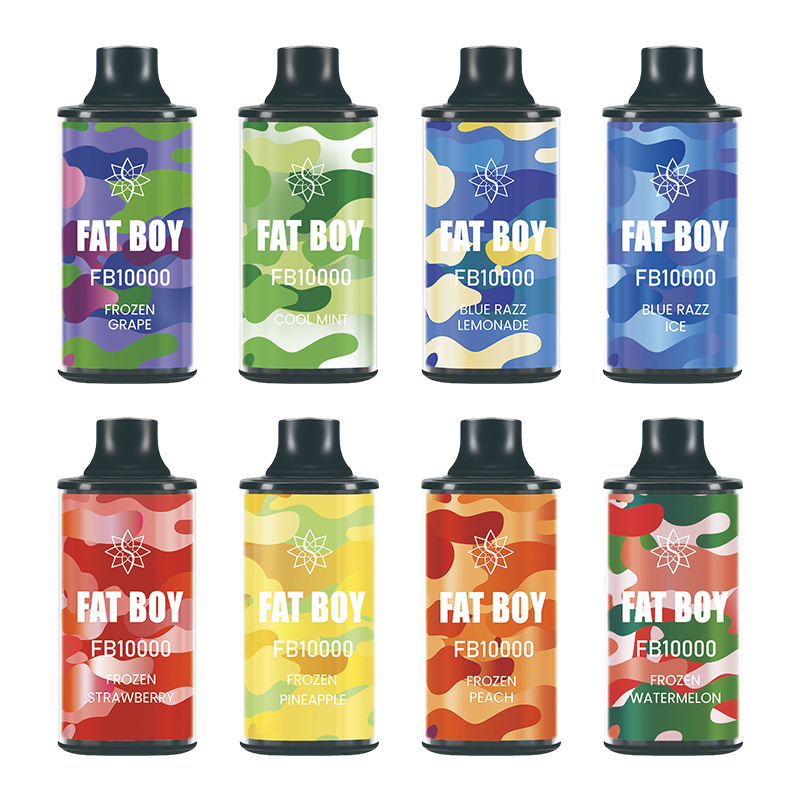 The Fat Boy FB10000 takes vaping to new heights with its expansive 15ml pre-filled e-liquid reservoir. This generous capacity means fewer refills and more uninterrupted vaping pleasure, allowing enthusiasts to savor the rich flavors without the need for constant maintenance.
Crafted for true connoisseurs, the Fat Boy FB10000 boasts a formidable 5% (50mg) nicotine strength. This concentration ensures a robust and satisfying hit with every draw, making it an ideal choice for those who crave a powerful and authentic vaping experience.
Equipped with a 650mAh rechargeable battery, the Fat Boy FB10000 with cotton candy flavors ensures lasting performance. Vapers can enjoy extended sessions without the worry of running out of power, and when it's time for a recharge, the convenience of a USB Type-C connection (not included) adds a layer of modernity to the overall user experience.
With an astonishing approximate puff count of 10000, the Fat Boy FB10000 stands as a testament to longevity. This disposable vape is designed to accompany enthusiasts through an extensive vaping journey, ensuring they get the most out of every device.
The inclusion of a mesh coil in the Fat Boy FB10000 elevates the vaping experience to new heights. This technology enhances flavor delivery and promotes a smoother draw, providing vapers with a truly immersive and enjoyable session.
Embracing simplicity, the Fat Boy FB10000 features draw-activated technology, eliminating the need for buttons and complicated settings. The device is tailored for Mouth-to-Lung (MTL) vaping, catering to a wide range of preferences, and its airflow adjustable design allows users to fine-tune their vaping experience to perfection.
Conclusion:
In the realm of disposable vapes, the Fat Boy FB10000 stands out as a symbol of innovation and performance. From its impressive e-liquid capacity and potent nicotine strength to its efficient rechargeable battery and advanced mesh coil technology, every aspect is meticulously designed to deliver a premium vaping experience. Join the vaping revolution and elevate your journey with the Fat Boy FB10000 — where power, convenience, and satisfaction converge in a single, groundbreaking device. Secure your piece of the future of vaping today.