Vaping enthusiasts, get ready to say "Hi" to the future of vaping with the Gumi Bar 8000 Puffs Vape. This cutting-edge device is designed to elevate your vaping experience, providing unparalleled convenience, flavor, and power. In this article, we'll delve into the incredible features that set the Gumi Bar apart from the rest and why it's become a must-have for vapers everywhere.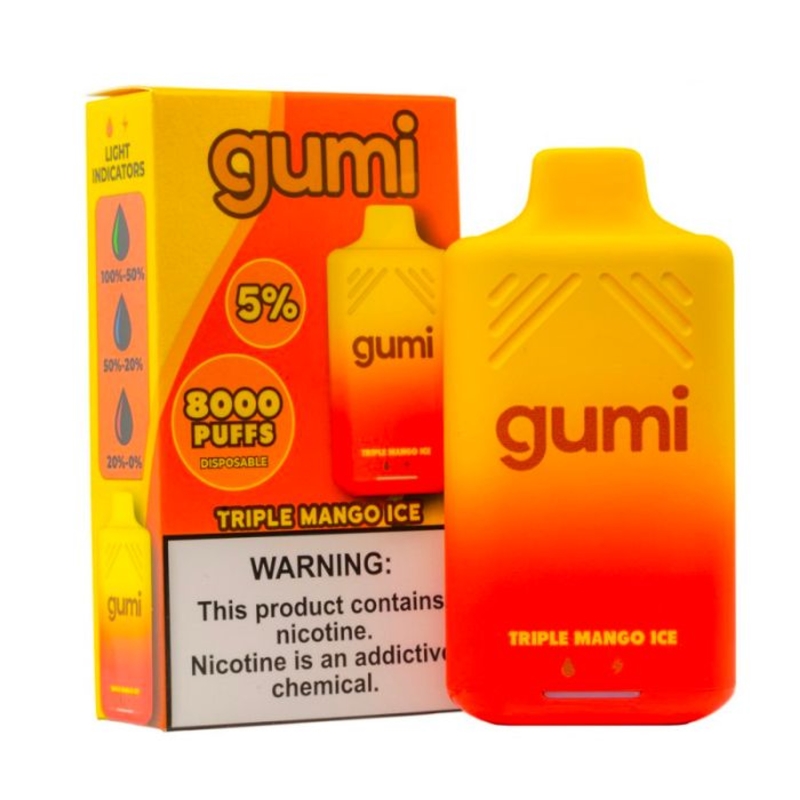 The Powerhouse: 8000 Puffs
One of the standout features of the Gumi Bar 8000 Puffs Vape is its impressive puff count. With a whopping 8000 puffs at your disposal, you'll enjoy extended use without the need for constant refills. This means less hassle and more enjoyment, making it a perfect choice for those who are always on the go or simply want a long-lasting vaping experience.
Smooth and Enjoyable Puffs
Gumi Bar takes inspiration from the flexibility and comfort of a soft-tip mouthpiece. Each puff feels incredibly smooth and enjoyable, ensuring that you savor every moment of your vaping session. Whether you're a seasoned vaper or just starting, the comfort of the mouthpiece adds a touch of luxury to your vaping experience.
Impressive 15ml E-Liquid Capacity
Forget about frequent refilling. The best disposable vape Gumi Bar boasts an impressive 15ml e-liquid capacity, ensuring that you have enough e-liquid to last you for an extended period. This generous capacity means you can vape more and refill less, allowing you to focus on what truly matters – enjoying your favorite flavors.
500mAh Built-In Battery
Powering the Gumi Bar is a 500mAh built-in battery. This battery is designed for extended use, meaning you can enjoy your vape sessions without constantly worrying about recharging. When it's time to recharge, the device's standard Type-C charging port ensures convenient and fast charging, so you'll be back to vaping in no time.
Dual Mesh Coil Technology
One of the key secrets behind the Gumi Bar's exceptional flavor is its dual mesh coil technology. This innovative feature guarantees a consistently flavorful experience from the first puff to the very last. Whether you prefer fruity, dessert, or classic tobacco flavors, you'll enjoy the full spectrum of taste with every draw.
E-Liquid & Battery Light Indicators
To keep you informed about your vaping essentials, the Gumi Bar comes equipped with e-liquid and battery life indicators. These intuitive indicators allow you to monitor your e-liquid levels and battery status at a glance, ensuring that you're always in control of your vaping experience.
Sleek and Portable Design
The Gumi Bar's sleek and portable design is the cherry on top. It effortlessly fits into your lifestyle, whether you're heading to work, going out with friends, or simply relaxing at home. Its discreet and hassle-free use means you can vape wherever you go, without drawing unnecessary attention.
Conclusion
In the world of vaping, the Gumi Bar 8000 Puffs Vape stands out as a game-changer. With its impressive puff count, smooth mouthpiece, generous e-liquid capacity, and innovative technology, it's no wonder why this device is making waves in the vaping community. Say goodbye to frequent refills and hello to an unparalleled vaping experience with the Gumi Bar. Elevate your vaping journey today and discover the future of vaping convenience, power, and flavor.