If you're one who prefers nicotine-free vaping, your search ends here with the SOFI X9000 Zero Nicotine Disposable. This cutting-edge auto-draw e-cig is engineered to redefine your vaping journey, offering a generous 18ml of 0% nicotine salt eLiquid and an impressive 9000 puffs.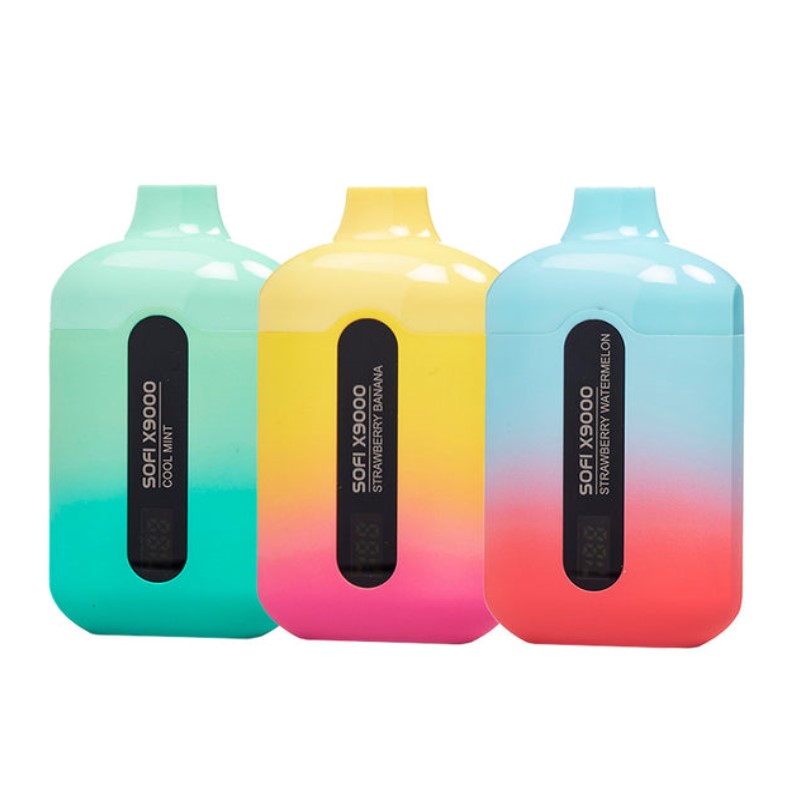 What sets the SOFI X9000 apart is its commitment to flavor purity. Featuring a dual mesh coil design, this disposable vape ensures that each puff is a delicate and tasty indulgence. Whether you're a seasoned vaper or a newcomer, the X9000 Zero Disposable promises a vaping experience that is unmatched in both richness and satisfaction.
With an internal 650mAh battery, the SOFI X9000 vape is not just about flavor but endurance too. The device is equipped with a Type-C port for convenient charging, ensuring that you can enjoy your vaping sessions without frequent interruptions. The non-refillable design adds to its user-friendly nature, providing hassle-free usage for vapers on the go.
To enhance user convenience, the SOFI X9000 Zero Disposable comes with both a battery and eLiquid indicator. Stay informed about your device's status at a glance, allowing you to manage your vaping sessions effortlessly. This thoughtful addition ensures that you're always in control, making for a more satisfying and stress-free vaping experience.
With the SOFI X9000 Zero Nic Disposables, variety is the spice of life. Choose from an impressive array of 8 enticing flavors, each crafted to tantalize your taste buds. From classic favorites to innovative blends, the X9000 series caters to diverse palates, ensuring there's a flavor for every mood.
Conclusion:
In the realm of disposable vapes, the SOFI X9000 stands out as a nicotine-free delight that combines innovation, flavor, and convenience. With its impressive 9000 puffs, dual mesh coil design, and smart indicators, this disposable vape is designed to elevate your vaping experience. Don't miss out – explore the world of SOFI X9000 Zero Nicotine Disposable vapes today and savor the freedom of nicotine-free indulgence.
You may also like: smoant knight q cheap