Do you know the Fortis Kit by SMOK? In the following, I'm gonna make a detailed introduction to it. If you want a medium power device for DTL vaping, this may be a good choice. Let's dive in.
SMOK Fortis is a portable vape system and features an exquisite appearance. Similar in shape to a cylinder, the grip of the mod is covered in full-grained leather to make it comfortable in the hand and keep it light. Inside the mod, a 21700 battery effortlessly installs via a bottom flip cap, but if you only have a 18650 cell, that will fit as well albeit power is reduced to 80W instead of 100W. An easily accessed USB Type-C interface will also replenish the battery the fastest way possible.
Changing the output or other settings is also effortless thanks to a full-color 0.96″ display screen that shows all pertinent information at a glance. On the display, you will see operational data such as the battery's charge level, the current wattage, the last puff time, the atomizer resistance, the current voltage, as well as a puff counter. To ensure a secure vape experience, the mod is capable of detecting the atomizer's coil, will prevent firing for longer than 8s, and has both short circuit and low voltage protection.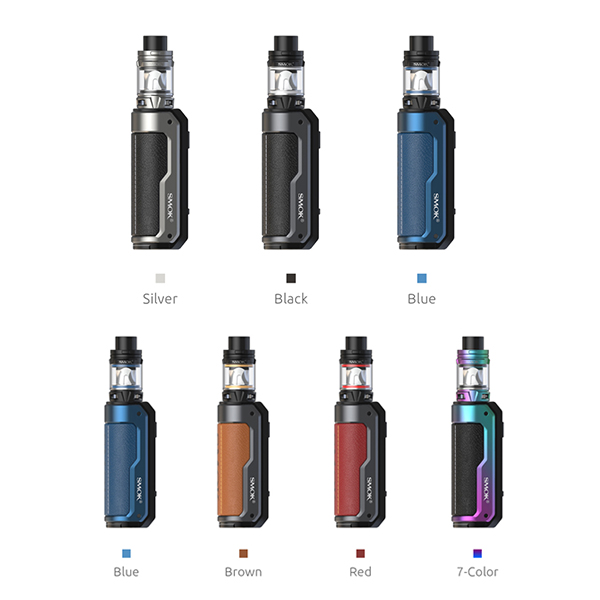 The Fortis Kit comes with a TFV18 Mini Tank (EU edition with a TFV Mini V2 Tank). With purchase, you will receive two V18 Mini Meshed 0.2ohm coils that feature a wider heating area, a 0.2ohm resistance, and an operating capability that ranges from 40-80W. For massive vapor and mild flavor, it is recommended to fire with about 60W. There are two additional compatible coils such as the V18 Mini Meshed 0.33ohm coil (80-140W) and the V18 Mini Dual Meshed 0.15ohm coil (80-110W). These two are not included, so you must buy them separately.
The juice capacity comes in at an incredible 6.5mL which is very high for such a tiny setup. Moreover, refilling is quite easy and is done by way of a filling slot hidden underneath the top cap. Finally, the tank's airflow features a bottom-to-top air system that works with 3 large intake slots to produce massive vapor and release all the extra heat. By rotating the bottom airflow ring, you may adjust the air intake to your liking to have either an MTL or a DTL puff style or anywhere in between.
You may also like:
innokin coolfire z80 buy
cheap wotofo srpnt rda